Cocoa Butter vs Coconut Oil For Skin | In-Depth Comparison
Because of its amazing moisturizing properties, cocoa butter is one of the main natural ingredients used in a skin care routine. Coconut oil on the other hand has been having a bit of a renaissance in skin care. It is frequently marketed to those with sensitive skin.
The bottom line is that both options provide beneficial nutrients to the skin and have a high degree of overlapping benefits. Both are stand out moisturizers, but neither are particularly suitable for use on your face.
Cocoa Butter Overview
Cocoa butter is the yellowish fat extracted from cocoa beans during cocoa powder extraction. It is solid at room temperature, and naturally has a sweet nutty aroma. It has often been used for skin care, and is a great option for those with sensitive skin.
Benefits of Cocoa Butter
Rich in Vitamin E, Cocoa butter is commonly used in a variety of skin care products, most commonly lotions, skincare creams, and moisturizers. It is known for its anti aging properties and the ability to promote skin suppleness.
Cocoa butter is packed with antioxidants that make it excellent for skin care, as it helps protect the skin from premature aging, dullness, and dark spots.
Its role in the moisturizing process is as an emollient. It intensely moisturizes the skin and protects if from drying out. It is packed with essential fatty acids like oleic, palmitic, and stearic acids. These fatty acids lend a protective layer to the skin that prevents the evaporation of moisture.
Cocoa butter is also rich in Vitamin E and K, as well as minerals like choline, magnesium, copper, and iron.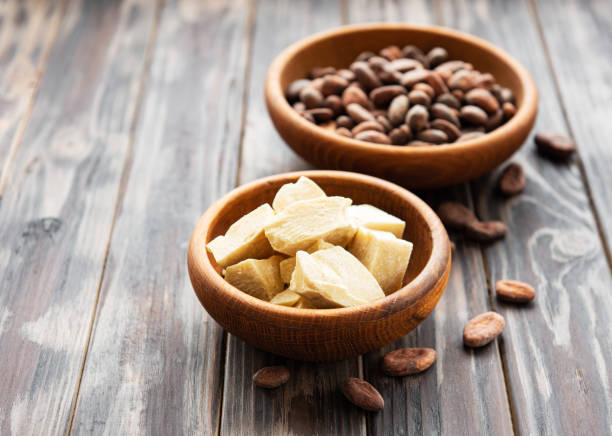 Coconut Oil Overview
Coconut oil is extracted from the the kernels of coconuts harvested from a coconut tree. Refined coconut oil is typically edible (although nowhere near as tasty as fresh coconuts). The oil is refined from fresh coconut meat and is a liquid at room temperature.
Coconut Oil Benefits
Coconut oil has been used as a moisturizer, as well as for other skin care benefits like its utility as a natural make-up remover.
Virgin coconut oil is particularly known for its moisturizing properties. It also has anti-aging properties due to its high antioxidant content.
The medium chain fatty acids found in in coconut oil form an effective skin barrier. This benefit partially offsets the fact that coconut oil is not quickly absorbed into the skin.
Types of Coconut Oil
Pure Virgin Coconut oil
Otherwise known as VCO, extra virgin coconut oil, is extracted through cold pressing, thus retaining all its natural ingredients and properties. Though it is still useful as a moisturizer in this form, it does not have a long shelf life.
Organic coconut oil is VCO that is made from fruit from a coconut tree that was grown without the use of pesticides. It is an edible oil in this form.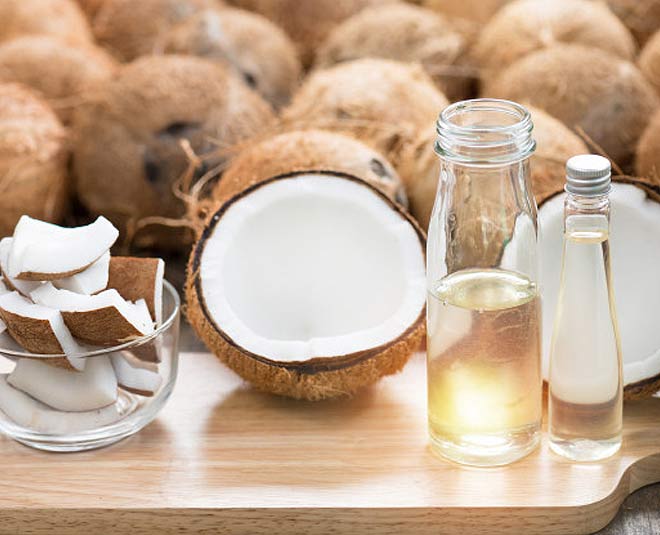 Unrefined Coconut oil
Unrefined coconut oil is extracted by processing coconut into coconut milk, which is brought to a boil before being strained and fermented. A centrifugal process is then used to separate the milk from the coconut oil. The resulting product is an edible oil.
Refined Coconut oil
Derived from dried coconut meat called copra. The coconut or copra oil has a high boiling point and is more useful for use as a frying oil than for skin care.
Hydrogenated Coconut Oil
Given a longer shelf life then other forms of coconut oil through the use of high heat and pressure processing. Also used in food making, but a less healthy for cooking given the fat content
Coconut Oil vs. Cocoa Butter
The main difference between cocoa butter and Coconut oil for the purpose of skin care is the fatty acids composition of the two options and what this means for their properties.
Coconut oil is 90% saturated fatty acids and 9% unsaturated fats. About half of the fats in coconut oil are medium chain fatty acids such as lauric acid.
Conversely, cocoa butter is roughly 35% oleic acid, 35% stearic acid, 25% palmitic acid, 3% linoleic acid, and 2% other fatty acids.
The fatty acids in cocoa butter make it excellent for warding off dry skin, but also make it unsuitable for facial use, particularly for those who suffer from acne.
Cocoa Butter vs Coconut Oil for Skin
Coconut oil is extremely compatible with the skin natural sebum. It has use in addressing wrinkles as it helps improve the elasticity of the skin and prevent skin sagging. An extra benefit in skin care is that people with other allergies tend to tolerate coconut oil very well.
My personal experience is that Cocoa butter is more effective for extremely dry skin and those who suffer from eczema, while coconut oil products have a lighter feeling.
Cocoa Butter vs Coconut oil for Face
Generally, coconut oil is not recommended for use on the face as it is mildly comedogenic. This means that it will clog the pore, which is a keen concern for anyone suffering from acne or who has oily skin.
Cocoa butter is similarly comedogenic and should also be avoided for facial use.
Cocoa Butter vs coconut oil for Stretch Marks
Coconut Oil is an emollient, meaning it moisturizes the skin, improves elasticity, and will be helpful in preventing the appearance of stretch marks. It also has anti inflammatory properties which may make it helpful for speeding up the healing process for existing stretch marks.
Cocoa butter penetrates and moisturizes down to the middle layer of the skin. While is is a good moisturizer, coconut oil products are generally better for stretch marks.
Cocoa Butter vs coconut oil for Lips
Cocoa butter is amazing for the skin on our lips due to the richness in potassium and vitamins A, D, and E. It can be used to help soothe and speed the healing process of cracked skin. It is particularly helpful for those in cold weather states who need a thicker protective layer to retain moisture.
Cocoa butter vs coconut oil for Dry Skin
Cocoa butter is particularly useful with those with dry skin problems because of how quickly it absorbs into the skin. It also acts to soften the skin and improve its texture. Growing up I suffered from eczema, and relied on cocoa butter (the thick Palmer's stick) to help give relief to the discomfort of my dried and crackling skin.
Cocoa butter vs coconut oil for Hair
Coconut oil is extremely useful for those with hair conditions like dandruff and scalp conditions. Very beneficial in moisturizing the scalp. One thing to keep in mind is that those with oily hair are probably better off avoiding coconut oil. The lauric acid in coconut oil make it an effective ingredient in hair scalp treatments.
Cocoa butter is less beneficial for hair than options like coconut oil, shea butter, or argan oil. While it can be used to keep the scalp moisturized, there are much better options for the job.
Frequently Asked Questions
Which is better coconut oil or cocoa butter?
Both are very effective options with similar properties. The better option generally comes down to your skin type. Those who suffer from eczema and dry skin are largely better off with cocoa butter. Those with normal skin types will likely prefer coconut oil.
Can I use coconut oil instead of cocoa butter?
The two options are largely interchangeable and neither should be used on the face.
What is the difference between cocoa butter and coconut Oil?
Cocoa butter is derived from the cocoa nut, while coconut oil is the result of processing the coconut kernel.